What is your book about?
His Brother's Keeper is about many things, but the main character, Leo is at the epicenter of all of the things going on. He's a runaway who ended up caught up in this underworld of gangs fighting for control of the city. This turf war is pretty serious business since there's nothing outside of Paragon City. What's within its walls-- that's it. There is nothing else. To make a living, Leo works as a professional companion; not the most dignified of jobs. Part of the story though is about how Leo learns to value himself just as he is. He learns that his worth has nothing to do with other peoples' opinions of him. Of course, there's tons of action too, as the three factions in the Junkyard fight against each other.
What inspired you to write this particular story (and/or series)?
I started dreaming it up over a decade ago, and my inspiration comes from several key things. I loved video games growing up and those stories within them just as much as I loved my favorite novels. I knew from early on that I was "different" and desperately wanted to find characters like me in the same grand stories that I loved. More often than not, I came up empty handed. I was even further disappointed when I realized that the majority of queer fiction in the local library were all historical fiction or slice-of-live type novels. Totally boring to me-- even though I know that the narratives in those stories are very important to queer culture, they left me snoring. I wanted to go on adventures with queer people! I wanted gay, lesbian, bisexual, transgender, and asexual heroes, wizards, mercenaries, bartenders-- you name it! In the end I realized that if you wanted something done right, you'd best just do it yourself…
Are your characters in the book based on anyone you know?
Yes; one main character is based on the person I was with for six years before they left me with little or no closure. I'll leave it up to everyone else to speculate on which character that is. I can tell you one thing: The character is not a villain.
What authors inspire or influence your work?
So, so many! my biggest influences are definitely Anne Rice, Garth Nix, K.A. Applegate, and Cassandra Clare.
What project(s) are you working on now?
I've got two major ones in the works! I'm writing the sequel to His Brother's Keeper, The Mark of Cain which is due out on October 13th. The other project is a supernatural romance/action story for teens based in my hometown of Des Moines Iowa. It's a twist on the popular vampire stories floating around out there-- and includes a blood feud between the undead vampires and the immortal alchemists. The series is called The Sempiternal Soul, and book one is Amaranth. Look for it this winter, and follow me on tumblr at hazelblackthorn.tumblr.com for updates on release dates.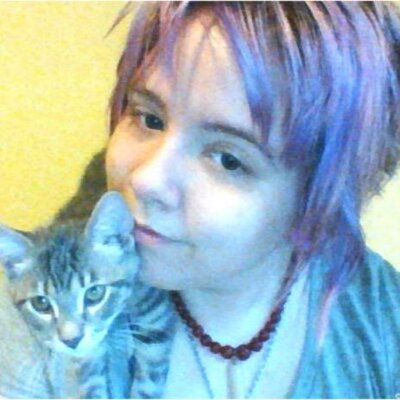 Hazel Blackthorn is from Des Moines, Iowa. The author spends most of their time with video games, pets, and of course writing. Hazel graduated valedictorian of their high school class and has been a lifelong activist for LGBTQ+ rights and intersectionality in activism.