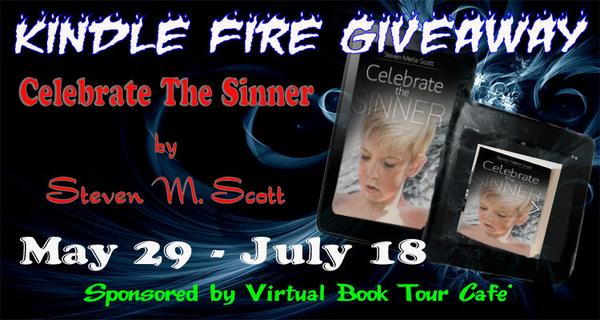 Genre
: Historical Fiction
Publisher
: Blue Amber Press
Release Date
: January 30, 2013
Amazon
Book Description:
"Unsettled conditions anywhere give rise to fear," Old Ted remarks. "Fear finds scapegoats and easy solutions."
In 1924, Marie walks through the Waverly Baby Home and chooses Teddy because he looks like the child she deserves...but the boy has hidden defects. Five years later, against a backdrop of financial ruin, KKK resurgence, hangings and arson, Marie's husband, Merle, struggles to succeed, Marie loses her way, and troubled seven year-old Teddy begins to see what he and his family are missing.
CELEBRATE THE SINNER unfolds with the onset of The Great
Depression
after Teddy's father buys a bankrupt sawmill and moves his small family to an isolated Oregon mill town. Merle feeds his hunger with logs and production, while his young wife feels like rough-cut lumber, unworthy of paint and without a future. When a conspiracy threatens the mill, Merle adds the powerful KKK to his business network. Untended, Teddy strays as he searches for a connection outside himself. He loves the machines that take the trees, but he also worships his new, young teacher. He discovers the Bucket of Blood Roadhouse and begins spending his Saturday nights peering through its windows, gaining an unlikely mentor: Wattie Blue, an ancient, Black musician from Missouri, by way of Chicago, plays the lip harp and calls out square dances. When Wattie faces the Klan and his past, Teddy and his family are confronted with equally difficult choices.
Framed by solitary, narcissistic, ninety-year-old Ted, this story of desperate people contains humor, grit, mystery and an ending that surprises, even stuns. "Spines and bellies soften and round off with the years," Old Ted muses. "Thoughts, too, lose their edge, but secrets scream for revelation. Perfect people, after all, don't hold a monopoly on the right to tell their stories.
About T
he Author:
S.M. Scott was raised and educated in Oregon, Alaska, France and Africa. Born in the Willamette Valley, his father, grandfather and great grandfather were Oregon lumbermen. When he was eight, his parents packed up the family and their portable sawmill and moved to Anchorage, Alaska where they began cutting homesteader timber in the summers and teaching school each winter.
He later returned to Oregon to pursue
undergraduate
studies at Linfield College. Along the way, he has studied economics, biology, French and medicine. He attended medical school in Colorado, undertook surgical training at the University of Utah and completed his cancer training at the Mayo Clinic in Minnesota. He and his family now live in Salt Lake City in the warm company of Saints and sinners. He is a practicing orthopedist and cancer surgeon.
Website | Facebook | Twitter | Linkedin